Dal 2 al 9 settembre si svolgerà il Tour of Britain 2018, la corsa a tappe nel Paese che da alcuni anni, più di ogni altro, sta dominando la scena internazionale, tanto su strada (britanniche sei delle ultime sette maglie gialle) quanto su pista (sei ori su 10 a Rio 2016).
Nato nel 1955 ed inizialmente riservato ai dilettanti, il Giro di Gran Bretagna viene aperto ai professionisti nel 1987 e dal 2005 fa parte del calendario Uci Europe Tour, di cui è attualmente prova Hors Categorie. Due soli gli italiani in grado di aggiudicarsi la classifica generale: Maximilian Sciandri nel 1992 e Maurizio Fondriest nel 1994. Nel 2015 si impose Edvald Boasson Hagen, nel 2016 Stephen Cummings, mente nel 2017 fu la volta di Lars Boom.

 Diretta tv su Eurosport 2: tutte le giornate live dalle ore 14.15, l'ultima dalle ore 16.45.

 Si conferma percorso destinato prevalentemente alle ruote veloci, quello disegnato dagli organizzatori. Eccetto il quinto (cronometro individuale) ed il sesto giorno (arrivo in salita), tutte le altre frazioni potrebbero concludersi con arrivi di gruppo compatto o ristretto.
Uno strappetto a otto chilometri all'arrivo è il principale ostacolo per gli sprinter nella prima tappa terminante a Newport, in Galles, patria di Geraint Thomas; stesso copione nella giornata successiva, dove la distanza tra l'ultimo gpm e il traguardo è di quasi venti chilometri. Leggerissimo arrivo in salita nella terza tappa a Bristol, mentre la quarta offre una chiara occasione per gli uomini veloci a Royal Leamington Spa.
Cruciale il quinto giorno, per via della cronometro di 14 km che potrebbe creare quei distacchi lievi ma decisivi; cruciale anche il giorno successivo, quando si arriva sul Whinlatter Pass, strappo di prima categoria posto dopo altri quattro già affrontati in precedenza. Poche le difficoltà sul traguardo di Mansfield, nulle quelle a Londra, con il classico arrivo in circuito che decreterà il vincitore finale dopo l'ennesima volata.
A seguire l'elenco delle tappe e la planimetria generale. In basso info sulla startlist.
Tappa: 1 – 2 Settembre: Pembrey Country Park – Newport, 175.00 km
Tappa: 2 – 3 Settembre: Cranbrook – Barnstaple, 174.00 km
Tappa: 3 – 4 Settembre: Bristol, 125.00 km
Tappa: 4 – 5 Settembre: Nuneaton – Royal Leamington Spa, 183.00 km
Tappa: 5 – 6 Settembre: Cockermouth – Whinlatter Pass TTT, 14.00 km
Tappa: 6 – 7 Settembre: Barrow-in-Furness – Whinlatter Pass, 169.00 km
Tappa: 7 – 8 Settembre: West Bridgford – Mansfield, 223.00 km
Tappa: 8 – 9 Settembre: London CRIT, 77.00 km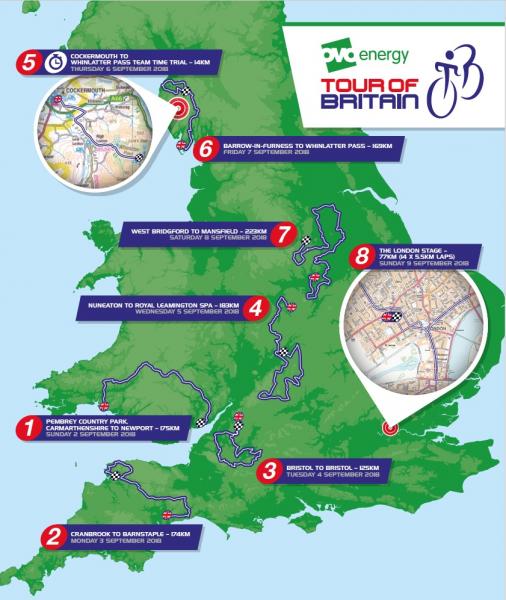 Così la startlist del Tour of Britain 2018: WorldTour (Bmc, Mitchelton – Scott, Movistar, Quick Step Floors, Dimension Data, EF Drapac, Katusha-Alpecin, LottoNL-Jumbo, Team Sky e Team Sunweb); Professional (Bardiani-Csf, Direct Energie, Aqua Blue Sport, Wanty-Gobert); Continental (Canyon Eisberg, JLT Condor, Madison Genesis, One Pro Cycling); nazionale britannica.
L'attesa è tutta per la grande coppia del Team Sky formata da Chris Froome e Geraint Thomas, rispettivamente l'ultimo a vincere la Tripla Corona e l'ultimo ad aggiudicarsi il Tour de France. Senza dimenticare grandi interpreti del ciclismo attuale come Julian Alaphilippe (Quick Step), Primoz Roglic (LottoNL-Jumbo), Wout Poels (Team Sky) ed Edvald Boasson Hagen (Dimension Data). Tra i velocisti, invece, spiccano i nomi di Fernando Gaviria (Quick Step Floors), Andre Greipel (Lotto Soudal), Caleb Ewan (Mitchelton-Scott), Ben Swift (Gran Bretagna) e gli italiani Andrea Guardini (Bardiani-Csf) e Andrea Pasqualon (Wanty-Gobert).
TEAM LOTTO NL – JUMBO
1 ROGLIC Primoz Slovenia
2 BOUWMAN Koen Netherlands
3 EENKHOORN Pascal Netherlands
4 VAN EMDEN Jos Netherlands
5 POWLESS Neilson United States
6 WYNANTS Maarten Belgium
TEAM DIMENSION DATA
11 RENSHAW Mark Australia
12 DAVIES Scott United Kingdom
13 DLAMINI Nicholas South Africa
14 THWAITES Scott United Kingdom
15 VENTER Jacobus South Africa
16 THOMSON Jay Robert South Africa
BMC RACING TEAM
21 KÜNG Stefan Switzerland
22 BEVIN Patrick New Zealand
23 DRUCKER Jean Pierre Luxembourg
24 ROELANDTS Jurgen Belgium
25 SCOTSON Miles Australia
26 VAN GARDEREN Tejay United States
LOTTO – SOUDAL
31 GREIPEL André Germany
32 DE BUYST Jasper Belgium
33 HOFLAND Moreno Netherlands
34 SHAW James Callum United Kingdom
35 KEUKELEIRE Jens Belgium
36 VANENDERT Jelle Belgium
TEAM WIGGINS
41 CULLAIGH Gabriel United Kingdom
42 DOWNEY Mark Ireland
43 FOUCHE James New Zealand
44 PIDCOCK Thomas United Kingdom
45 TEGGART Matthew Ireland
46 WALKER Joey United Kingdom
JLT CONDOR
51 BRIGGS Graham United Kingdom
52 BRADBURY Edmund United Kingdom
53 MOSES Thomas United Kingdom
54 MOULD Jonathan United Kingdom
55 SLATER Alistair United Kingdom
56 STEWART Thomas United Kingdom
MITCHELTON – SCOTT
61 EWAN Caleb Australia
62 HAMILTON Lucas Australia
63 KLUGE Roger Germany
64 MEYER Cameron Australia
65 POWER Robert Australia
66 TUFT Svein Canada
BARDIANI CSF
71 BARBIN Enrico Italy
72 ALBANESE Vincenzo Italy
73 CARBONI Giovanni Italy
74 GUARDINI Andrea Italy
75 SIMION Paolo Italy
76 TONELLI Alessandro Italy
ONE PRO CYCLING
81 LIEPINS Emils Latvia
82 BAYLIS Thomas United Kingdom
83 MCCORMICK Hayden New Zealand
84 LATHAM Christopher United Kingdom
85 ORAM James New Zealand
86 WILLIAMS Peter United Kingdom
MOVISTAR TEAM
91 ROJAS GIL Jose Joaquin Spain
92 BARBERO CUESTA Carlos Spain
93 DE LA PARTE GONZALEZ Victor Basque Country
94 SÜTTERLIN Jasha Germany
95 FERNANDEZ ANDUJAR Rubén Spain
96 SEPULVEDA Eduardo Argentina
DIRECT ENERGIE
101 CHAVANEL Sylvain France
102 CARDIS Romain France
103 HIVERT Jonathan France
104 OURSELIN Paul France
105 PETIT Adrien France
106 TULIK Angelo France
MADISON GENESIS
111 SWIFT Connor United Kingdom
112 HANDLEY Richard United Kingdom
113 HOLMES Matthew United Kingdom
114 MCEVOY Jonathan United Kingdom
115 PYM George United Kingdom
116 ROWSELL Erick United Kingdom
TEAM EF EDUCATION FIRST-DRAPAC p/b CANNONDALE
121 MCLAY Daniel United Kingdom
122 BRESCHEL Matti Denmark
123 CARTHY Hugh United Kingdom
124 NEVES FERNANDES José Portugal
125 PHINNEY Taylor United States
126 MODOLO Sacha Italy
WANTY – GROUPE GOBERT
131 MEURISSE Xandro Belgium
132 ANTONINI Simone Italy
133 EIKING Odd Christian Norway
134 MCNALLY Mark United Kingdom
135 PASQUALON Andrea Italy
136 SMITH Dion New Zealand
CANYON EISBERG
141 PATON Alex United Kingdom
142 CHRISTENSEN Ryan New Zealand
143 GARDIAS Dexter United Kingdom
144 STEDMAN Max United Kingdom
145 TENNANT Andrew United Kingdom
146 TOWNSEND Rory United Kingdom
TEAM KATUSHA-ALPECIN
151 DOWSETT Alex United Kingdom
152 MARTIN Tony Germany
153 STRAKHOV Dmitrii Russia
154 POLITT Nils Germany
155 WÜRTZ SCHMIDT Mads Denmark
156 ZABEL Rick Germany
GREAT BRITAIN
161 SWIFT Ben United Kingdom
162 BOSTOCK Matthew United Kingdom
163 HAYTER Ethan United Kingdom
164 NALLY Joe United Kingdom
165 WILLIAMS Stephen United Kingdom
166 WRIGHT Fred United Kingdom
TEAM SKY
171 THOMAS Geraint United Kingdom
172 FROOME Christopher United Kingdom
173 WISNIOWSKI Lukasz Poland
174 KIRYIENKA Vasil Belarus
175 POELS Wouter Netherlands
176 STANNARD Ian United Kingdom
TEAM SUNWEB
181 THEUNS Edward Belgium
182 EEKHOFF Nils Netherlands
183 HAMILTON Chris Australia
184 HOFSTEDE Lennard Netherlands
185 VERVAEKE Louis Belgium
186 BAUHAUS Phil Germany
QUICK STEP FLOORS
191 GAVIRIA RENDON Fernando Colombia
192 ALAPHILIPPE Julian France
193 JUNGELS Bob Luxembourg
194 KEISSE Iljo Belgium
195 RICHEZE Ariel Maximiliano Argentina
196 SCHACHMANN Maximilian Germany